During the reading of Grisley's will, her ghost created manifestations from her novel to prompt those still alive to complete her unfinished manuscript "Raoul's Revenge." The Ghostbusters were called in to deal with the paranormal activity but ended up finishing the novel. They found a trap door and discovered a secret underground room where Grisley wrote her works in private. As Winston Zeddemore went through the script, the others and Grisley's lawyer, Mr. Kingsford went through the mansion and observed the manifestations.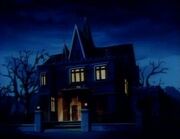 Ad blocker interference detected!
Wikia is a free-to-use site that makes money from advertising. We have a modified experience for viewers using ad blockers

Wikia is not accessible if you've made further modifications. Remove the custom ad blocker rule(s) and the page will load as expected.