Carpaccio's Lab is the ninth level in the game Wario: Master of Disguise. As the name blatantly states, it is the laboratory of Carpaccio and also the home of the fourth Wishstone fragment. It is very high-tech with a lot of robots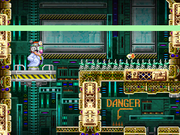 patrolling the area. Wario obtains both Wicked Wario, Wicked Wario Guise Gem, and the Dragon Wario Guise Gem here.
Silver robots
Golden robots
Thief robots
Trampoline robots
Mellow kitty
Ad blocker interference detected!
Wikia is a free-to-use site that makes money from advertising. We have a modified experience for viewers using ad blockers

Wikia is not accessible if you've made further modifications. Remove the custom ad blocker rule(s) and the page will load as expected.