Heaven, also called The Attic, The Penthouse, Paradise, or even Upstairs, is an ageless, ethereal, holy realm created by God, intended to be the home-realm of both himself and his angels. It serves as a dwelling place and a base of operations for all angels, and is a final resting place of worthy human souls.Recently Metatron's spell rendered Heaven locked, expelling all celestial beings, except himself.[1] As a result Reapers were no longer able to take worthy human souls to their final destination and souls who were not damned to Hell, were left at the spot of their deaths in The Veil. However, when Metatron was defeated and striped of his connection to the Angel Tablet, Heaven was restored. This is made evident when Amelia Novak dies and is later seen reuniting with her husband Jimmy.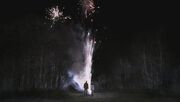 Ad blocker interference detected!
Wikia is a free-to-use site that makes money from advertising. We have a modified experience for viewers using ad blockers

Wikia is not accessible if you've made further modifications. Remove the custom ad blocker rule(s) and the page will load as expected.