Persona Non Grata" is the fourth mission of Call of Duty: Modern Warfare 3. The player assumes the role of Yuri. This level is set right after "Endgame". The main objective is to evacuate the wounded Soap to Nikolai's chopper. At first they shoot their way towards a weapon cache where Yuri will be operating a UGV (Unmanned Ground Vehicle) which will be used to clear a path to the helicopter where Yuri is left behind, but eventually gets to the chopper after nearly drowning in a river.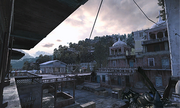 Ad blocker interference detected!
Wikia is a free-to-use site that makes money from advertising. We have a modified experience for viewers using ad blockers

Wikia is not accessible if you've made further modifications. Remove the custom ad blocker rule(s) and the page will load as expected.